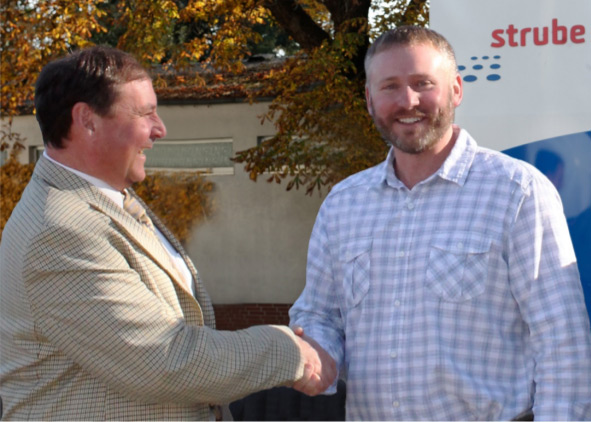 Söllingen (Germany)/Moscow (USA), 22nd November 2013 – The German plant breeding company Strube distributes vining peas from the pea breeding company Crites in Europe.
The American breeding company Crites Seed, Inc., located in Idaho (USA), is one of the most important pea breeders in the world. "We are delighted that we have Crites as a strong partner at our side. The extensive breeding program of Crites in combination with our worldwide sales network will strengthen both companies and will give our customers in Europe a better service and the access to the excellent seed of vining peas", says Niels Gram, Head of Sales at Strube.
The well known varieties NACHES and SPAN as well as new varieties will be distributed from now on by Strube for the European market.
"Strube is already well known for its premium seeds in sugar beet, wheat and sunflower. That is why we are sure that our varieties are in best hands with the Strube sales network", says Andy Johnson, Business Manager of Crites.
Please do not hesitate to contact us for further information.
About Crites
80 years ago, Willis Crites founded the company in 1933. From Idaho, USA the company developed to a specialist for vining peas, bush beans and sweet corn. Breeders and assistance are working today to create new superior pea varieties for the
future. The company offers with distributors 21 varieties in 20 countries. For additional information visit www.critesseed.com
About Strube
Strube is a family owned company renowned for its success in plant breeding, the production and sale of high-quality seeds. Since 1877, Strube has been breeding highperforming varieties, specialising in sugar beet, cereal crops, sunflowers, vining peas and sweet corn. The close links between breeding, processing, seed quality research and agricultural support service ensures the development of high quality products, with crop performance always as top priority. Strube employs 400 persons and is active in more than 35 countries. For additional information visit: www.strube-international.net.